Mercedes Benz Unimog
The UNIMOG was originally designed in the late 1940's as a general purpose, all terrain Agricultural Tractor. It has evolved into so much more! You can spend more... but WHY???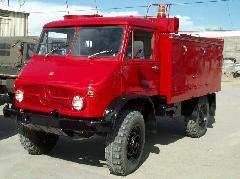 Just a few of the available body styles are Troop/Cargo Carriers (as seen at the right), Fire Trucks (as seen at the right) and Radio Trucks with steel enclosure, furniture & auxillary heater! There is a UNIMOG built for every conceivable need! UNIMOGS are a very serious piece of equipment for the money! We import both Diesel and Gasoline Powered UNIMOGs. The most popular model is the 404.1. These Mogs are powered by a 6 cyl. 80-bph 2.2 Liter gasoline engine. 404.1 UNIMOGs have a 6 speed/2 reverse gearbox and shift-on-the-fly 4WD & Differential Locks! They feature 30 degree opposed axle twist, 43 degree lateral and a coil spring suspension.
Our UNIMOGS are in excellent condition! They are priced from about $8,000 FOB our facility in Littleton, Colorado. All street legal vehicles sold by Cold War Remarketing, Inc. include clear Colorado title (NOT some silly Registration!). To view our current inventory, click on the 'display our inventory' button near the top of this page. You may also contact us for further information. Shipping to ALL 50 States and Canada is NO PROBLEM!
You can get Unimogs & other military vehicles here (in CO)